Description
The Grove of Old Trees Stewardship Day
Thursday, December 22nd, 2022

You're warmly invited to lend a hand at the Grove of Old Trees! This 48-acre redwood grove in west Sonoma County is protected forever. A flourishing habitat that's beneficial for plant, animal, and human communities, your stewardship action is crucial to tending the land for a healthy, thriving Grove.
Trails provide safe access to natural features on our lands and help reduce erosion and overuse of sensitive ecosystems on our lands. Today's stewardship will focus on maintaining and improving sections of the trail.
Tasks for the day include:
Hiking up and down moderate slopes.

Carrying tools to the work site.

Removing vegetation with rakes and loppers

Reshaping the edge of the trail with shovels, mcleods, and pickaxes.

Smoothening trail with shovels and rakes
.
Where to Meet: Meet LandPaths' staff and other volunteers in the parking lot of the Grove of Old Trees. Once everyone arrives we will hike to the project site.
Directions: Make your way to the town of Occidental and look for Coleman Valley Road – the main road exiting the West Side of town. Continue along Coleman Valley Road until the road makes a sharp turn to the right. Go straight (do not continue on Coleman Valley Road). You are now on Joy Road. Take Joy Road for approximately ¼ mile where you will turn right on Fitzpatrick Lane.
Proceed slowly on this narrow winding lane. Please remember to give right of way to vehicles traveling uphill. Stay on Fitzpatrick Lane approximately 5 minutes; the road banks to the left over a cattle grate, and up a moderately steep hill. The Grove will appear on your right. Follow the paved road along the Grove to the parking area on the right.
If you are driving from the local area or know others attending this workday, to your comfort, please consider carpooling to reduce the vehicle impact to Fitzpatrick Lane. Thank You!
What is LandPaths' Covid-19 volunteer workday policy? Please read the most recent version of LandPaths' Covid-19 policy before attending the workday.
Does rain mean the workday is cancelled? The stewardship workday will move forward if there is a light drizzle, but a torrential rainstorm will cancel. Please call 707-544-7284 (then press 1) after 7am the morning of the stewardship day if the weather feels questionable. If you don't hear a notice of cancellation on the outgoing voice message, the stewardship day is moving forward.
What should you bring?
Picnic lunch, snacks & plenty of water, backpack to hold your gear

Sturdy boots or shoes that can get muddy
What else do you need to know?
A handwashing station will be available.

Expect to do a 0.5 mile round hike around the mostly flat loop trail.

You will be asked to sign a liability waiver.

No potable water available on the property. Make sure to fill up your water bottle ahead of time.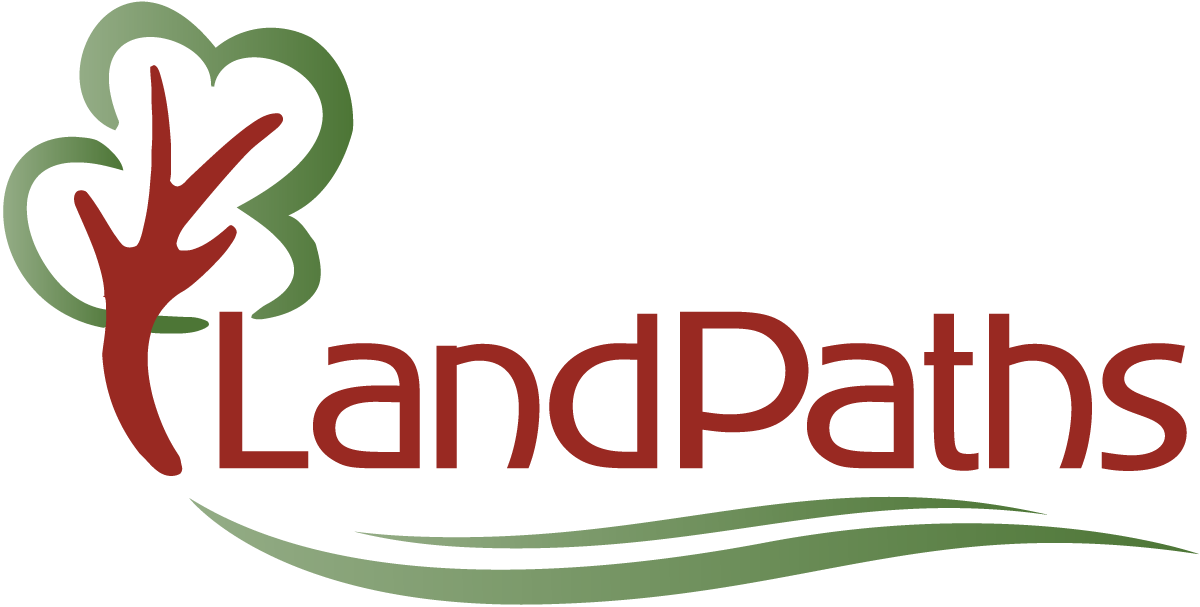 Thanks for your support! We look forward to seeing you at the Grove!
Your Friends at LandPaths & Friends of the Grove (FOG)
D

í

a de conservación en la reserva
ecológica Grove of Old Trees
jueves 22 de diciembre, 2022
¡Están cordialmente invitados a echar una mano en la reserva Grove of Old Trees! Este bosque de secoyas de 48 acres en el oeste del condado de Sonoma está protegido para siempre. Un hábitat floreciente que es beneficioso para las comunidades de plantas, animales y humanos, su acción de mayordomía es crucial para cuidar el bosque y para que se mantenga saludable y próspero.
Los senderos brindan acceso seguro a las características naturales de nuestras tierras y ayudan a reducir la erosión y el uso excesivo de ecosistemas sensibles en nuestras tierras. La administración de hoy se centrará en mantener y mejorar las secciones del sendero.
Las tareas del día incluyen:
Senderismo de subida y bajada de pendientes moderadas

Transporte de herramientas al lugar de trabajo

Eliminación de vegetación con rastrillos y tijeras de podar

Remodelando el borde del sendero con palas, mcleods y picos

Suavizado de senderos con palas y rastrillos
¿Dónde nos reunirmos?: Empezaremos en el estacionamiento de la reserva Grove of Old Trees. Una vez que todos lleguen, caminaremos hasta el sitio del proyecto.
Direcciones: Diríjase a la ciudad de Occidental a la calle Coleman Valley Road, la carretera principal que sale del lado oeste de la ciudad. Continúe por Coleman Valley Road hasta que la carretera haga un giro brusco a la derecha. Siga recto (no continúe por Coleman Valley Road) y tome Joy Road. Condizca por Joy Road durante aproximadamente ¼ de milla y gire a la derecha en Fitzpatrick Lane.
Continúe lentamente por este carril estrecho y sinuoso. Recuerde ceder el paso a los vehículos que viajan cuesta arriba. Permanezca en Fitzpatrick Lane aproximadamente 5 minutos; el camino se desvía a la izquierda sobre una reja de ganado y sube por una colina de pendiente moderada. The Grove aparecerá a su derecha. Siga el camino pavimentado a lo largo de Grove hasta el área de estacionamiento a la derecha.
Si viene del área cercana o conoce a otras personas que también participarán, considere compartir el automóvil para reducir el impacto de vehículos en Fitzpatrick Lane. ¡Gracias!
¿Cuál es la política de Covid-19 de LandPaths? Lea la versión más reciente de la política Covid-19 de LandPaths antes de asistir.
¿Se cancelará si llueve? Se cancelará solamente en caso de una tormenta torrencial. Llame al 707-544-7284 (luego presione 1) después de las 7 am la mañana del día en cuestión, si desea confirmar. Si no escucha un aviso de cancelación en el mensaje de voz saliente, el día no sido cancelado.
¿Qué traer?:
Almuerzo, bocadillos y suficiente agua, mochila para guardar sus cosas

Botas resistentes o zapatos que pueden embarrarse

Se recomiendan pantalones largos

Tus propios guantes de trabajo

Sombrero y protector solar

Mascarilla y desinfectante de manos
¿Qué más?
Habrá una estación para lavarse las manos.

No se nesecita experiencia

Proveremos todas las herramientas

Una caminata al sitio del proyecto de ~ 0.5 millas de ida y vuelta por un sendero mas o menos plano.

Se le pedirá que firme una exención de responsabilidad.

No hay baños en el lugar.

No hay agua potable disponible en la propiedad.

No se permiten mascotas ni fumar.
¡Gracias por su apoyo! ¡Esperamos verte en la reserva Grove of Old Trees! Tus amigos de LandPaths y Friends of the Grove (FOG)