Description
Garden Stewardship Day at Jeff Bodwin Community Garden
Día de jardinería en la huerta Jeff Bodwin
Andy's Unity Park, 3399 Moorland Ave., Santa Rosa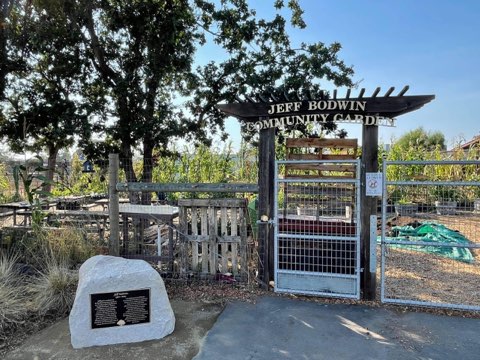 LandPaths' garden and community hub in southwest Santa Rosa welcomes you! Our half-acre community teaching garden at Andy's Unity Park in southwest Santa Rosa, is a place where the neighbors like you grow food, tend the land, practice organic gardening, connect with the natural world, and gather together for positive action and belonging. The garden was renamed in 2020 to honor Moorland community member Jeff Bodwin, It would not exist without his dedication and commitment.
Place: Andy's Unity Park in southwest Santa Rosa, 3399 Moorland Avenue, Santa Rosa
Stewardship Days and Time: second Saturdays from 9am to 12pm
Please Bring:
Water to drink

Food and snacks for yourself and your family

Garden gloves, if you have them

Sunscreen

Hat
Thank you for lending a hand at Jeff's Garden! You make this community farm and hub possible!
For any questions, please contact LandPaths Bilingual Garden Specialist Jonathan Bravo at (707) 703-3321 or jbravo@landpaths.org.
At LandPaths, we continue to offer connections to the land and community in creative ways, while following local Covid-19 safety protocols and policies. We want to support the entire community to get outdoors safely. Click here, to read more about LandPaths' Covid-19 policies.
ESPAÑOL
¡El jardín y centro comunitario de LandPaths en el suroeste de Santa Rosa le da la bienvenida! Nuestro jardín de enseñanza comunitario de medio acre en Andy's Unity Park en el suroeste de Santa Rosa, es un lugar donde los vecinos como usted cultivan alimentos, cuidan la tierra, practican la jardinería orgánica, se conectan con el mundo natural y se reúnen para la acción positiva y la pertenencia. Se cambió el nombre del jardín en 2020 para honrar a Jeff Bodwin, miembro de la comunidad de Moorland. No existiría sin su dedicación y compromiso.
Las tareas varían según la temporada: preparar camas con compost, plantar vegetales orgánicos, cosechar vegetales, podar árboles frutales y más. Tenemos algo que hacer para todos, ¡así que traiga a toda la familia!
Lugar: Andy's Unity Park en el suroeste de Santa Rosa, 3399 Moorland Avenue, Santa Rosa
Días y Horas: segundo sábado del mes de 9 a 12 hs.
Por favor traer:
Agua para beber

Comida y snacks para ti y tu familia

Guantes de jardín, si los tienes.

Protector solar

Sombrero
¡Gracias por echar una mano en Jeff's Garden! ¡Tú haces posible esta huerta y centro comunitario!
Si tiene alguna pregunta, comuníquese con el especialista en jardinería bilingüe de LandPaths, Jonathan Bravo, al (707) 703-3321 o jbravo@landpaths.org.
En LandPaths, seguimos ofreciendo conexiones con la tierra y la comunidad de maneras creativas, siguiendo los protocolos y políticas locales de seguridad de Covid-19. Queremos apoyar a toda la comunidad para salir al aire libre de manera segura. Haga click aquí para leer nuestra política de Covid-19.
Registrese aquí - Register here