Description
Open Exploration - Explóralo tu mismo
Sunday, March 5 - 5 de marzo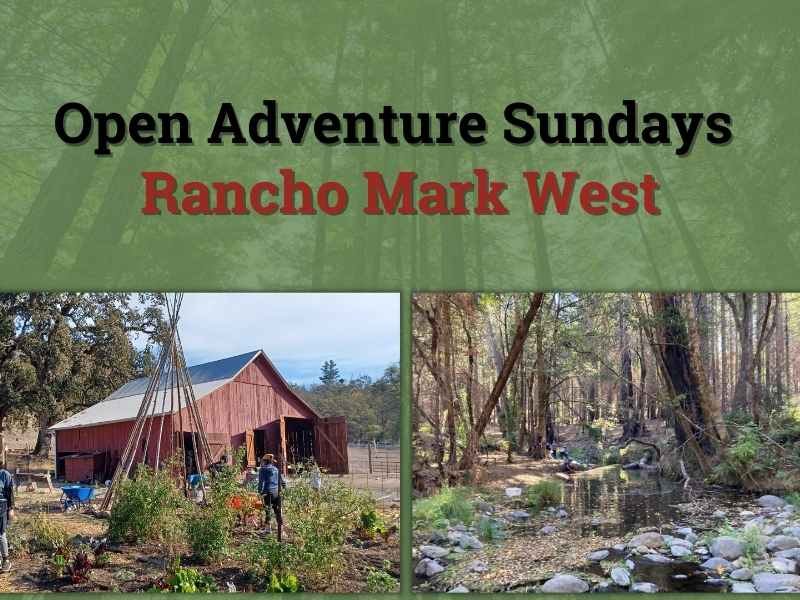 Join LandPaths and our friends at Sonoma County Ag + Open Space for a free, self-guided, family friendly adventure at Rancho Mark West. On March 5, Rancho Mark West will be open to the public. Explore the trails that meander through a redwood forest, trek across open hillsides with views of oaks, madrones, and doug firs, and follow along pristine Mark West Creek as it flows towards the Laguna de Santa Rosa. What you discover is up to you!
Rancho Mark West is located on the ancestral home of the Southern Pomo people and the Wappo people, past, present, and future. We recognize them as the first people and the first stewards of this land. We are on occupied territory and acknowledge the ongoing devastation of colonization. With accessible pathways and proximity to Santa Rosa, Rancho Mark West is our outdoor classroom, community hub, and wild place of refuge in the Mayacamas Mountains.
ESPAÑOL
Únase a LandPaths y a nuestros amigos en Sonoma County Ag + Open Space para una aventura gratuita, autoguiada y para toda la familia en Rancho Mark West. El 5 de marzo, Rancho Mark West estará abierto al público. Explore los senderos que serpentean a través de un bosque de secuoyas, camine por laderas abiertas con vistas de robles, madroños y abetos, y siga el prístino Mark West Creek mientras fluye hacia la Laguna de Santa Rosa. ¡Lo que descubras depende de ti!
Rancho Mark West está ubicado en el hogar ancestral del pueblo Pomo del Sur y el pueblo Wappo, pasado, presente y futuro. Los reconocemos como las primeras personas y los primeros administradores de esta tierra. Estamos en territorio ocupado y reconocemos la devastación en curso de la colonización. Con caminos accesibles y proximidad a Santa Rosa, Rancho Mark West es nuestro salón de clases al aire libre, centro comunitario y lugar salvaje de refugio en las Montañas Mayacamas.