Description
High School Volunteer Work Experience Opportunity!
Experiencia de trabajo para jóvenes
Owl Camp Assistant at LandPaths
Ayudante de Campamento Búho
español abajo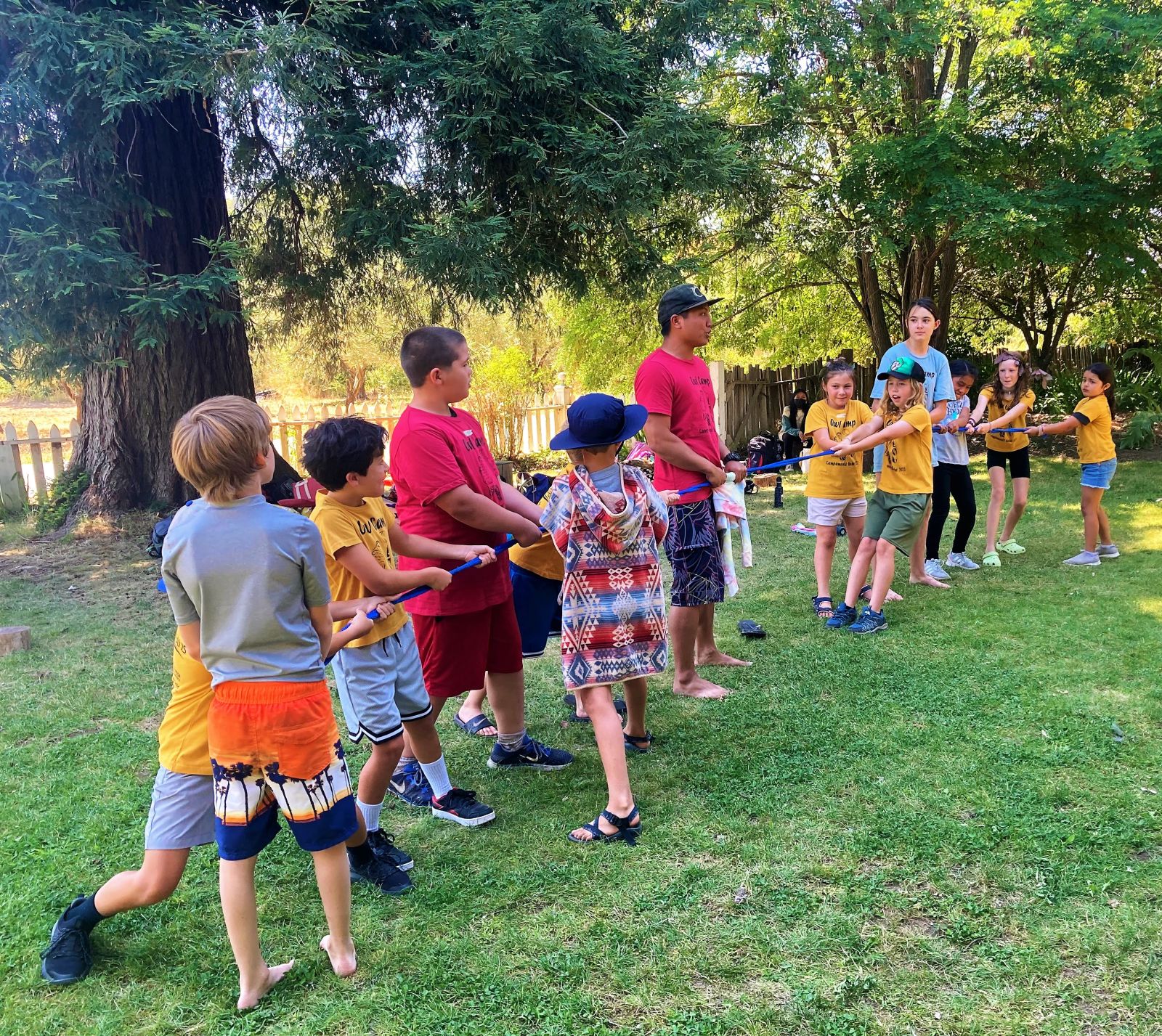 Position Description:
LandPaths seeks high school students to assist camp counselors at Owl Camp, a nature-based day camp for youth ages 6 to 13 at Rancho Mark West in Northeast Santa Rosa, Bohemia Ecological Preserve in Occidental and Preston Farm in Healdsburg.
We're looking for high school students who fit the following criteria:
You have experience OR want to gain work experience being a camp assistant with youth ages 6-13 in beautiful, inspiring outdoor places in Sonoma County.

You love nature OR you want to develop a love for nature, and to share that love and curiousity about the world with younger children.

You would like to develop your leadership skills.

You like to work with other people and creatively collaborate.

Bilingual skills are a plus, but not mandatory.
What is Owl Camp?
At Owl Camp, kids aged 6 to 13, spend their precious summer hours the old-fashioned way! Owl Campers return year after year to connect with the land, appreciate and care for nature, make new friends, sing songs, hike, play camp games, build forts, learn woodworking skills, swim, canoe, make arts and crafts, act in plays, and learn to cook organic food straight from the garden! The result is happy, aware, curious kids who feel like they belong in nature and can't wait to get back outside to care for the land and have fun with community.
How will you benefit from being an Owl Camp Assistant?
Learn how to work in a group setting from skilled and experienced environmental educators.

Spend time outdoors in a beautiful place, gaining all of the mental and physical benefits of time in nature.

Harvest and enjoy food organically grown on site! (If you volunteer at Preston Farm)

Learn outdoor education, teaching, and leadership skills for working with youth (e.g. group management, small and large group nature-based games, inquiry-based exploration of the natural world, all the skills needed to safely lead youth hikes, basic water safety and canoeing skills).

Get an Owl Camp T-shirt

Gain invaluable hands-on work experience which can be great for your resume or college application!

Upon successful completion of at least one week of the High School Work Experience, you will be awarded a certificate of completion and letter of recommendation outlining successes and skills achieved as an Owl Camp Assistant.

Earn Community Service Hours for college application or other needs.
Ready to apply to be an Owl Camp assistant? Click Here to Register!
(You can help us administer this program by choosing to pay the $60 registration fee if you are able. If the cost is a barrier for you, please select the no-cost option.)
What to expect after you register:
Mark your calendar for a required training on Friday, June 9 from 10am-4:30pm at Bohemia Ecological Preserve in Occidental.

A committment to work at least one full week, or five days total at summer camp. The hours are from 8:15am - 4pm.

You will assist our Education Field Specialists in camp activities like crafts, cooking, gardening, hiking, nature games, and more.

Work Schedule: You will arrive by 8:15am to set up crafts and activities and stay through the end of the day to help with clean-up, debrief and share stories from the day. (*If arriving by 8:15 am and staying until 4:00 pm is an obstacle for whatever reason, please discuss this during your interview.)

We expect that you will be a positive role model for the campers. At the training, you'll get to participate in activities that share LandPaths' values, and our approach to equity and belonging at camp.

You are responsible for your own transportation to and from camp. You must also bring your own food (including lunch, snack, and water) each day of camp. Please note that transportation assistance may be available for those in need. Don't let the lack of a car or transportation keep you from applying! Just mention in your interview that you need transportation assistance to get to camp and we'll try to work something out!)
Once you register online, you will receive an email to schedule an interview. We will be conducting 30-minute interview zoom sessions between 3pm and 5:30pm pm on May 23, 24 and 27. If the dates/times listed do not work for you, we will find a time that does. *Please note that priority goes to students who have previous experience participating in LandPaths' programs. If you are a returning teen volunteer, the interview will include feedback from your previous years as a leader and will be oriented toward setting goals for the upcoming camp season. If you have any questions about registering or the registration/interview process, please email Laura, Volunteer Coordinator: laura@landpaths.org.
Experiencia de trabajo para jóvenes de secundaria
Ayudante de Campamento Búho
LandPaths busca estudiantes de secundaria para ayudar a los consejeros del Campamento Búho, un campamento basado en la naturaleza para niños de 6 a 13 años en Rancho Mark West en el noreste de Santa Rosa, Bohemia Ecological Preserve en Occidental y Preston Farm en Healdsburg.
Qualidades que deseamos de los aplicantes:
Experiencia o el deseo de adquirir experiencia en trabajo con niños de 6-13 años en hermosos lugares naturales en el condado de sonoma

Pasión por la naturaleza o d

eseo de aprender sobre el mundo natural y compartir esa curiosidad con los campistas

D

eseo de desarrollar habilidades de liderazgo

Deseo de trabajar en un ambiente colaborativo

Habilidades bilingües son un plus pero no necesarias
El Campamento Búho ofrece un lugar enriquecedor para que los niños exploren el mundo natural, prueben nuevas ideas y experimenten la libertad de ser niños; aprendizaje a través de la exploración de la naturaleza. Los campistas regresan año tras año para conectarse con la tierra, apreciar y cuidar la naturaleza, hacer nuevos amigos, cantar canciones, caminar, jugar juegos de campamento, construir fuertes, aprender habilidades de carpintería, nadar, andar en canoa, hacer manualidades, actuar en obras de teatro. , ¡y aprender a cocinar comida orgánica directamente de la huerta! El resultado son niños felices, conscientes y curiosos que sienten que pertenecen a la naturaleza y están ansiosos por volver a salir para cuidar la tierra y divertirse con la comunidad.
Beneficios que recibirás como ayudante:
Aprender de expertos y experiencados educadores ambientales

Pasar una semana (o más) al aire libre en un bello paraje, respirando aire fresco y haciendo ejercicio

Cosechar y preparar alimentos de las huertas orgánicas de Rancho Mark West y Preston Farm

Aprender habilidades de liderazgo, enseñanza y educación al aire libre para trabajar con los jóvenes (por ejemplo, manejo de grupos, grupos pequeños y juegos basado en la naturaleza, exploración indagación del mundo natural, todos los conocimientos necesarios para conducir caminatas seguras, seguridad básica en el agua y competencias de canotaje).

Playera de Campmanete Búho

¡Adquirir una experiencia de trabajo práctico – llenar tu currículum con experiencia práctica!

Al final del campamento recibirán un certificado de finalización y una carta de recomendación delineando éxitos y habilidades alcanzados como un auxiliar de Campamento Búho. Esta carta ayuda con applicaciones de universidad, becas, y trabajos.

Completar horas de servicio comunitario
¿Estás listo para aplicar?
¡Inscríbete aquí!
(Ayúdenos a administrar este programa eligiendo pagar la tarifa de registro de $60 si le es posible. Si el costo es demasiado, seleccione la opción sin costo).
Expectativas de los ayudantes:
Asistir a un día de entrenamiento, viernes junio 9 de 10:00-4:30pm

en Bohemia Ecological Preserve en Occidental

Comprometerse a por lo menos 1 semana completa o un total de 5 días de campamento (durante una semana) de 8:15am a 4:00pm

Ayudar a los consejeros del campamento en todas las actividades incluyendo manualidades, cocina, jardinería, senderismo y más

Arrivar a las

8:15 am para ayudar a preparar artesanías y actividades y quedarse hasta el final del día para ayudar a limpiar, y compartir historias del día. (* Si el llegar en 8:15 y permanecer hasta las 4:00 pm es un obstáculo, por favor mencionarlo durante la entrevista)

Aprender y modelar los valores de LandPaths, estilo de enseñanza y técnicas de manejo de grupo. Todos los voluntarios deben ser modelos positivos para los campistas

Los voluntarios son responsables de su propio transporte y deberán traer su propia comida (almuerzo y bocadillo) cada día de campamento (* Ayuda de transporte puede estar disponible para aquellos en necesidad; por favor avise al personal durante la entrevista)

Una vez que se registren en línea, recibirán un correo electrónico para programar una entrevista. Los días 23, 24 y 27 de mayo realizaremos sesiones de zoom de entrevistas de 30 minutos entre las 3:00 p. m. y las 5:30 p. m. *Tengan en cuenta que la prioridad es para los estudiantes que tienen experiencia previa participando en los programas de LandPaths. Si ya has participado de ayudante, la entrevista incluirá comentarios de tus años anteriores como líder y se orientará hacia el establecimiento de metas para la próxima temporada de campamentos. Si tienen alguna pregunta sobre el registro o el proceso de registro y entrevista, envíen un correo electrónico a Laura, coordinadora de voluntarios: laura@landpaths.org.
¡Gracias!