Description
Teen River Trek: Forestville to the Sea
June 19 – 22, 2023
open to youth ages 13 – 17
$600 with scholarships available
Travesía de Kayak en el Río: de Forestville hacia el Mar
19 – 22 de Junio del 2023
para participantes de 13 – 17 años 
$600 con becas disponibles
Español Abajo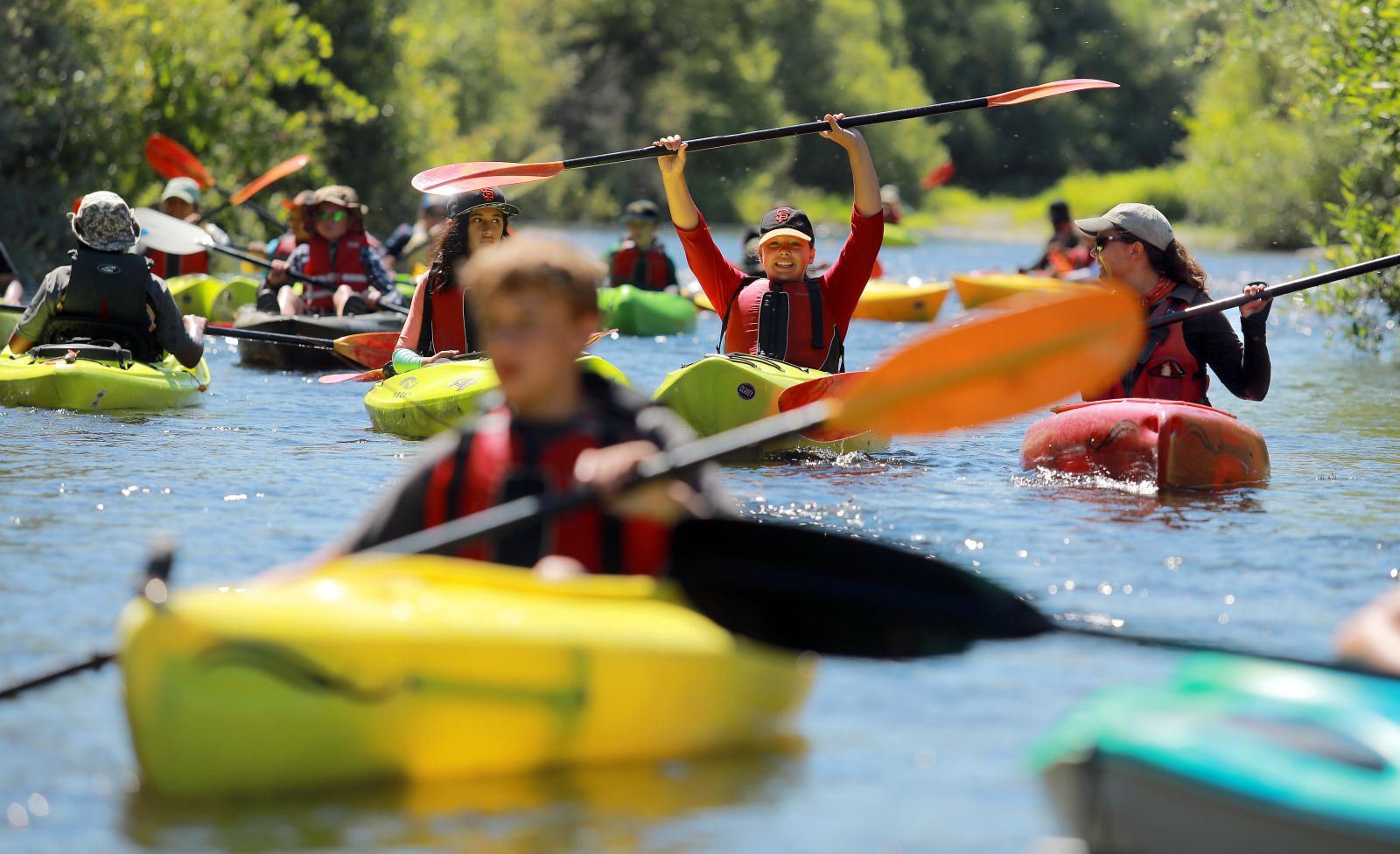 Spend four days on the Russian River learning how to paddle a kayak, observing the natural riparian ecosystems, and so much more! This Teen River Trek offers a special opportunity for youth ages 13 – 17 to explore the natural world from the unique perspective of paddling down the Russian River. Our experienced educators will guide youth in learning new skills centered on safely paddling themselves down the river and studying the rich flora and fauna of our watershed, all the while building a team experience through shared challenges and explorations on the water.
Basic Itinerary:
The first day of the Russian River Teen Trek begins at 9 am and is a chance for youth to learn the ins and outs of water safety, paddling basics and to spend time getting to know the staff and their fellow paddlers. Youth do not have to know how to swim BUT, all youth will be asked to demonstrate the ability to float safely in the river in their lifejackets by the end of the day. They will also be asked to demonstrate the ability to tip/flip out of their kayaks and make it to shore. They will be supported by staff in learning these new skills! Youth will be picked up at the end of the day at 3pm in Forestville, CA.
Days 2 through 4 will include an overnight component where participants will spend the day paddling through the beautiful Russian River Watershed, covering a maximum of ~7 miles each day as they enjoy the unique perspective of traveling with the water across the landscape.
Each night they arrive at a different camping location along the river until the group arrives at the beach on the last day! Please note that this experience may be physically and mentally challenging as we will be spending all day on the water. Students from a previous year's trek shared that it was one of the hardest things they had ever done, and they were proud of the accomplishment. Day 2 begins at 9 am, drop off in Forestville, CA and Day 4 ends Thursday at 3pm, pick-up in Jenner, CA.
COVID-19 Safety Precautions
Masks are optional

If your youth exhibits any cold or flu like symptoms, please have them stay home. A negative Covid test and/or a doctor's note is required to return to camp.
Frequent handwashing and hand sanitizing
Covid19 Safety Protocols are subject to change based on the recommendations of the CDC, State and local authorities and current case numbers in Sonoma County.
Air Quality
Per LandPaths policies, air quality will be closely monitored, and programs canceled if the AQI (PM 2.5) is above 100.
Camp Details
Dates: June 19 – 22, 2023
Days: Monday – Thursday (overnight Tuesday and Wednesday nights)
Ages: 13 – 17
Cost: $600 with partial and full scholarships available  
Locations and Times:
Day 1: 9am – 3pm Dropoff and pick up at Wohler Bridge Fishing Access Regional Park, 9765 Wohler Road, Forestville, CA
Day 2: 9am Drop Off at Wohler Bridge Fishing Access Regional Park again
Day 4: 3pm Pick Up at Jenner Visitor Center Boat Ramp, 10439 Highway 1 Jenner, CA 95450
Registration and Payment Information
Full payment is due at the time of registration. Please complete your registration online whenever possible. If this is not possible, please call or email to schedule an appointment to register over the phone: Lesly@landpaths.org, (707) 544-7284 ext 109. We can process credit card payments over the phone, and we also accept checks and cash.  
Cancelation Policy
Full payment is due upon registration. $50 of your payment is considered "non-refundable." You can receive a full refund, minus a $50 processing fee, until two weeks prior to the first day of camp. Cancellations made after less than one week before the first day of camp will not receive a refund. LandPaths may cancel or reschedule a program due to unsafe weather such as poor air quality, heavy rain or high winds, or a renewed covid19 outbreak in which case full refunds will be made available, minus the $50 processing fee. No refunds will be possible for programs canceled once they are in session.  
Scholarships  
LandPaths is actively committed to making camp accessible for all youth, regardless of historical and systemic socioeconomic inequities. We offer scholarships to 40% of our participants, with the goal of a camp that is a true reflection of all of us who live here in Sonoma County.
Scholarships and partial scholarships are available. If you need tuition assistance, please fill out a Scholarship Application online BEFORE you register for camp. You can also call, and we can assist in filling out the form. Scholarships are available based on need, funding availability and will be awarded on a rolling basis until filled. Each scholarship recipient is asked to pay a minimum of $50.
**Filling out the scholarship application does not guarantee a scholarship. PLEASE wait LandPaths' staff to contact you with a scholarship approval before you register.
Bilingual Scholarship Application Here
Donations 
The Camps Scholarship Program is made possible through the generous donations of individuals, clubs, and businesses in our community. Your donations support tuition and transportation for youth. Thank you for supporting our mission of fostering a love of the land in Sonoma County through your generous donation to our Camps Scholarship Program! 
River Trek Staff  
The Trek will be staffed by a stellar crew of experienced outdoor educators and water lovers. Core staff, who are wilderness first aid, wilderness first responder, CPR, and swift water rescue certified, will always be on the water with youth. We will also be joined by a select team of dedicated and experienced adult volunteers excited to share their knowledge and love of the scenic Russian River. All Camp staff and volunteers have been fingerprinted for background checks.  We will always have a minimum 1 adult to 5 youth ratio on the water. Likely it will be a 1 to 4 or even 1 to 3 ratio.
If this session is full, please join the waitlist – Si esta sesión está llena, únase a la lista de espera
Teen River Trek Waitlist 2023 / Lista de Espera para Travesía de Kayak en el Río 2023
---
Travesía de Kayak en el Río: de Forestville hacia el Mar
¡Excursión de cuatro días en el Russian River para jóvenes de 13 – 17 años, aprende a navegar en un kayak, explorando la naturaleza del río y mucho más! Esta travesía sobre el Russian River ofrece una oportunidad especial para explorar el mundo natural desde una perspectiva única remando en un kayak. Nuestros educadores expertos guiarán a los jóvenes en el aprendizaje de nuevas habilidades centradas en remar de manera segura río abajo y sobre la increíble flora y fauna de nuestra cuenca, mientras construyen una experiencia de equipo a través de desafíos compartidos y exploración del agua.
Itinerario:
El primer día de la travesía comienza a las 9 am y será una oportunidad para que los jóvenes aprendan todo sobre la seguridad en el agua, los conceptos básicos de remo y pasar un tiempo conociendo al personal y a sus compañeros remadores. Los jóvenes no tienen que saber nadar, PERO, a todos los jóvenes se les pedirá que demuestren la habilidad de flotar de manera segura en el río con sus chalecos salvavidas al final del día. También se les pedirá que demuestren la capacidad de volcarse / voltearse de sus kayaks y llegar a la orilla a salvo. ¡Serán apoyados por el personal para practicar el aprendizaje de estas habilidades! Esta actividad va a tomar todo un día. Los jóvenes tendrán que ser recogidos al final del día, a las 3pm en Forestville, CA.
Los días 2 – 4 estarán remando a través de la hermosa cuenca del Russian River durante el día, cubriendo aproximadamente 7 millas cada día mientras disfrutamos de la perspectiva única de viajar con el agua a través del paisaje e incluyen un componente de campamento por 2 noches. Tenga en cuenta que esta experiencia puede ser un desafío físico y mental, ya que pasaremos todo el día en el agua. Los estudiantes de los últimos años compartieron que fue una de las cosas más difíciles que habían hecho y estaban orgullosos de sus logros. El día 2 comienza a las 9 am en Forestville , CA y el día 4 termina a las 3 pm en Jenner, CA.
Precauciones de seguridad de COVID-19
Uso de cubrebocas es opcional

Si su participante presenta algún síntoma de gripa, favor de quedarse en casa. Se requiere una prueba de COVID negativa y/o una nota del médico para regresar al campamento

Lavado y desinfección de manos frecuente
Los protocolos de seguridad de COVID-19 son sujetos a cambios basados en las recomendaciones del CDC, de autoridades locales y estatales y de número de casos en el condado de Sonoma.
Calidad del Aire
Según las políticas de LandPaths, la calidad del aire será monitoreada de cerca y los programas se cancelarán si el AQI (el índice de calidad de aire) está por encima de 100.
Detalles del Campamento
Fechas: 19 – 22 de Junio del 2023
Días: Lunes – Jueves (campamento las noches de martes y miércoles)
Edades: 13 – 17 años
Precio: $600 con becas disponibles
Ubicación y Horario:
Día 1: 9am – 3pm punto de llegar y recoger en Wohler Bridge Fishing Access Regional Park, 9765 Wohler Road, Forestville, CA
Día 2: 9am punto de llegar en Wohler Bridge Fishing Access Regional Park again
Día 4: 3pm punto de recoger en Jenner Visitor Center Boat Ramp, 10439 Highway 1 Jenner, CA 95450
Inscripción y Detalles de Pago
El pago completo se debe en el momento de la inscripción. Complete su inscripción en línea si tiene la posibilidad de hacerlo. Si la inscripción en línea no es posible, llame directamente para inscribirse por teléfono: Lesly@landpaths.org, (707) 544-7284 ext 109. Podemos procesar pagos con tarjeta de crédito por teléfono, también aceptamos cheques y efectivo.
Política de Cancelación
$50 de su pago se consideran "no reembolsables". Puede recibir un reembolso completo, menos una tarifa de procesamiento de $50, hasta dos semanas antes del primer día del campamento. Las cancelaciones hechas después de menos de dos semanas antes del primer día del campamento no recibirán un reembolso. LandPaths puede cancelar o reprogramar un programa debido a un clima inseguro, como mala calidad del aire, lluvia intensa o vientos fuertes, o un nuevo brote de COVID 19, en cuyo caso se ofrecerán reembolsos completos, menos la tarifa de procesamiento de $50. No habrá reembolsos por programas cancelados una vez que estén en sesión.
Becas  
LandPaths se compromete a hacer que los campamentos sean accesibles para todos los jóvenes, independientemente de obstáculos socioeconómicos. Ofrecemos becas al 40% de nuestros participantes, con el objetivo de un campamento que sea un fiel reflejo de todos los que vivimos en el condado de Sonoma.
Hay becas completas y parciales disponibles. Si una beca le ayudaría a su familia, por favor llene la solicitud en línea ANTES de registrarse para el campamento. También puede llamar y podemos llenarla por teléfono. Las becas están disponibles según la necesidad, la disponibilidad de fondos y se otorgarán de forma continua hasta que se llenen. A cada becario se le pide que pague un mínimo de $50 (Nadie es rechazado por falta de fondos. Háganos saber si la tarifa de $50 es prohibitiva para su familia).
**Llenar la solicitud de beca no garantiza una beca. POR FAVOR, espere a que el personal de LandPaths se comunique con usted con la aprobación de una beca antes de inscribirse.
Personal  
Esta travesía contará con un equipo extraordinario de educadores expertos y amantes del agua. Los educadores principales, están certificados en Resucitación Cardiopulmonar y primeros auxilios y en rescate de agua, estarán en el agua con los jóvenes en todo momento. También nos acompañará un equipo de voluntarios adultos, entusiasmados por compartir su conocimiento y amor por el pintoresco Russian River. A todo el personal y voluntarios se les ha revisado sus antecedentes por medio de huellas digitales. La proporción de personal a estudiante es generalmente de 1 adulto por cada 4 a 5 jóvenes en el agua en todo momento.
If this session is full, please join the waitlist – Si esta sesión está llena, únase a la lista de espera
Teen River Trek Waitlist 2023 / Lista de Espera para Travesía de Kayak en el Río 2023