Description
Camp Trillium: LGBTQIA+ Youth and Allies in partnership with Positive Images
July 3 – 7, 2023
9 am – 3 pm
Open to Youth Ages 9 – 14
$375 with scholarships available
Campamento Trillium: LGBTQIA+ y Aliades en asociación con Positive Images 
3 – 7 de Julio del 2023
9 am – 3 pm
para participantes de 9 – 14 años 
$375 con becas disponibles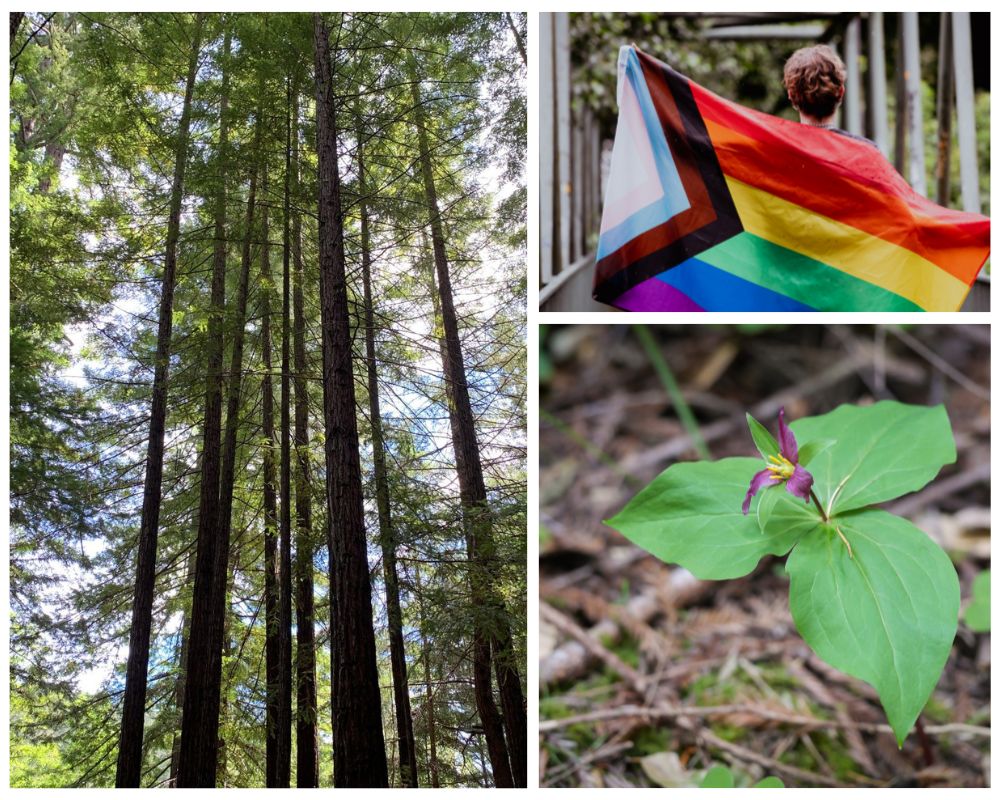 Camp Details
Dates: July 3 – 7, 2023
Days: Monday – Friday
Time: 9 am – 3 pm
Ages: 9 – 14 (youth will be placed in camp groups based on age)
Cost: $375 with partial and full scholarships available  
Location: A LandPaths' nature preserve in west Sonoma County (address provided upon registration)
At the heart of all LandPaths' Camps are joyful experiences in nature! This week we will be enjoying all the things that make LandPaths' camps unique, hiking through fields and forests, canoeing on the pond, bonding as a group while playing nature themed games and learning all about the plants and animals that call this nature preserve in west Sonoma County home.
In addition to all the wonderful time spent in nature, this week will center LGBTQIA+ youth in recognition that through meaningful relationships with one another and the outdoors, we can build community and experience brave spaces and joy together! To further this goal, we are excited to announce that we will be partnering with Positive Images, an LGBTQIA+ Community Center in downtown Santa Rosa that provides support, advocacy, and education to our local queer and trans community. They envision a Sonoma County where all LGBTQIA+ people are valued and compassionate community members, helping to build a just and equitable society. Since Positive Images was established in 1990, they have been a cornerstone in our county, providing a safe, inclusive, and welcoming space for thousands of people to nurture a strong and resilient queer and trans community. Learn more PI and their programs here: www.posimages.org
Staff  
Our staff are CPR and First Aid-certified, skilled and trained outdoor educators bringing years of experience working with youth in outdoor settings. Lead Staff for this program identify as LGBTQIA+ and look forward to creating a supportive community for youth of all identities. The staff to youth ratio is generally 1 to 12. We also have many wonderful and trained volunteers, making the adult to youth ratio closer to 1 to 4. All Camp staff and volunteers have been fingerprinted for background checks.    
COVID-19 Safety Precautions
Masks are optional

If your camper exhibits any cold or flu like symptoms, please have them stay home. A negative Covid test and/or a doctor's note is required to return to camp.

Frequent handwashing and hand sanitizing
Covid19 Safety Protocols are subject to change based on the recommendations of the CDC, State and local authorities and current case numbers in Sonoma County.
Air Quality
Per LandPaths policies, air quality will be closely monitored, and programs canceled if the AQI (PM 2.5) is above 100.
Registration and Payment Information
Full payment is due at the time of registration. Please complete your registration online whenever possible. If this is not possible, please call or email to schedule an appointment to register over the phone: Lesly@landpaths.org, (707) 544-7284 ext 109. We can process credit card payments over the phone, and we also accept checks and cash.  
Cancelation Policy
Full payment is due upon registration. $50 of your payment is considered "non-refundable." You can receive a full refund, minus a $50 processing fee, until two weeks prior to the first day of camp. Cancellations made after less than one week before the first day of camp will not receive a refund. LandPaths may cancel or reschedule a program due to unsafe weather such as poor air quality, heavy rain or high winds, or a renewed covid19 outbreak in which case full refunds will be made available, minus the $50 processing fee. No refunds will be possible for programs canceled once they are in session.  
Scholarships  
LandPaths is actively committed to making camp accessible for all youth, regardless of historical and systemic socioeconomic inequities. We offer scholarships to 40% of our participants, with the goal of a camp that is a true reflection of all of us who live here in Sonoma County.
Scholarships and partial scholarships are available. If you need tuition assistance, please fill out a Scholarship Application online BEFORE you register for camp. You can also call, and we can assist in filling out the form. Scholarships are available based on need, funding availability and will be awarded on a rolling basis until filled. Each scholarship recipient is asked to pay a minimum of $50.
**Filling out the scholarship application does not guarantee a scholarship. PLEASE wait LandPaths' staff to contact you with a scholarship approval before you register.
Bilingual Scholarship Application Here
Donations 
The Camps Scholarship Program is made possible through the generous donations of individuals, clubs, and businesses in our community. Your donation of $400 covers tuition and transportation for one young person to be able to attend one session of camp. Thank you for supporting our mission of fostering a love of the land in Sonoma County through your generous donation to our Camps Scholarship Program! 
---
Campamento Trillium: LGBTQIA+ y Aliades en asociación con Positive Images 
¡En el corazón de todos los campamentos de LandPaths hay experiencias alegres en la naturaleza! Esta semana disfrutaremos de todas las cosas que hacen que los campamentos de LandPaths sean únicos como caminar por campos y bosques, andar en canoa en el estanque, unirnos como grupo mientras jugamos juegos temáticos de la naturaleza y aprenderemos todo sobre las plantas y los animales que viven aqui.
¡Además de todo el tiempo maravilloso que pasaremos en la naturaleza, esta semana se centrará en los jóvenes LGBTQIA+ ya que reconocemos que a través de relaciones positivas entre nosotros y con la naturaleza podemos construir una comunidad segura y llena de alegría que afirma nuestras identidades! Para promover este objetivo, nos complace anunciar que nos asociaremos con Positive Images, un Centro Comunitario LGBTQIA+ en el centro de Santa Rosa que brinda apoyo, defensa y educación a nuestra comunidad local queer y trans. Visualizan un condado de Sonoma donde todas las personas LGBTQIA+ sean miembros valiosos y compasivos de la comunidad, ayudando a construir una sociedad justa y equitativa. Desde que se estableció Positive Images en 1990, han sido un pilar en nuestro condado, proporcionando un espacio seguro, inclusivo y acogedor para miles de personas nutriendo una comunidad queer y trans fuerte y resistente. Conoce más de sus programas aquí: www.posimages.org
Precauciones de seguridad de COVID-19
Uso de cubrebocas es opcional

Si su participante presenta algún síntoma de gripa, favor de quedarse en casa. Se requiere una prueba de COVID negativa y/o una nota del médico para regresar al campamento

Lavado y desinfección de manos frecuente
Los protocolos de seguridad de COVID-19 son sujetos a cambios basados en las recomendaciones del CDC, de autoridades locales y estatales y de número de casos en el condado de Sonoma.
Calidad del Aire
Según las políticas de LandPaths, la calidad del aire será monitoreada de cerca y los programas se cancelarán si el AQI (el índice de calidad de aire) está por encima de 100.
Detalles del Campamento
Fechas: 3 – 7 de Julio del 2023
Días: lunes – viernes
Hora: 9am – 3pm
Edades: 9 – 14 (los grupos serán formados basado en edades)
Precio: $375 con becas disponibles
Ubicación: Una reserva natural administrada por LandPaths en el oeste del condado de Sonoma
Personal  
Nuestro personal de educadores están capacitados y certificados en Resucitación Cardiopulmonar y primeros auxilios. Tienen capacitación y años de experiencia trabajando con jóvenes con enfoque en educación del medio ambiente. El personal principal de este programa se identifica como LGBTQIA+ y espera crear una comunidad de apoyo para jóvenes de todas las identidades. La proporción de personal a estudiante es generalmente de 1 adulto por cada 12 estudiantes. También contamos con un grupo de voluntarios capacitados que brindan asistencia durante todo el día, lo que hace que la proporción de adultos a estudiantes se acerque a 1 adulto por cada 4 estudiantes. A todo el personal y voluntarios se les ha revisado sus antecedentes por medio de huellas digitales.
Inscripción y Detalles de Pago
El pago completo se debe en el momento de la inscripción. Complete su inscripción en línea si tiene la posibilidad de hacerlo. Si la inscripción en línea no es posible, llame directamente para inscribirse por teléfono: Lesly@landpaths.org, (707) 544-7284 ext 109. Podemos procesar pagos con tarjeta de crédito por teléfono, también aceptamos cheques y efectivo.
Política de Cancelación
$50 de su pago se consideran "no reembolsables". Puede recibir un reembolso completo, menos una tarifa de procesamiento de $50, hasta dos semanas antes del primer día del campamento. Las cancelaciones hechas después de menos de dos semanas antes del primer día del campamento no recibirán un reembolso. LandPaths puede cancelar o reprogramar un programa debido a un clima inseguro, como mala calidad del aire, lluvia intensa o vientos fuertes, o un nuevo brote de COVID 19, en cuyo caso se ofrecerán reembolsos completos, menos la tarifa de procesamiento de $50. No habrá reembolsos por programas cancelados una vez que estén en sesión.
Becas  
LandPaths se compromete a hacer que los campamentos sean accesibles para todos los jóvenes, independientemente de obstáculos socioeconómicos. Ofrecemos becas al 40% de nuestros participantes, con el objetivo de un campamento que sea un fiel reflejo de todos los que vivimos en el condado de Sonoma.
Hay becas completas y parciales disponibles. Si una beca le ayudaría a su familia, por favor llene la solicitud en línea ANTES de registrarse para el campamento. También puede llamar y podemos llenarla por teléfono. Las becas están disponibles según la necesidad, la disponibilidad de fondos y se otorgarán de forma continua hasta que se llenen. A cada becario se le pide que pague un mínimo de $50 (Nadie es rechazado por falta de fondos. Háganos saber si la tarifa de $50 es prohibitiva para su familia).
**Llenar la solicitud de beca no garantiza una beca. POR FAVOR, espere a que el personal de LandPaths se comunique con usted con la aprobación de una beca antes de inscribirse.