Description
Self-Guided Tours of Rancho Mark West - Autoexploración de Rancho Mark West
Sunday, May 7 - domingo 7 de mayo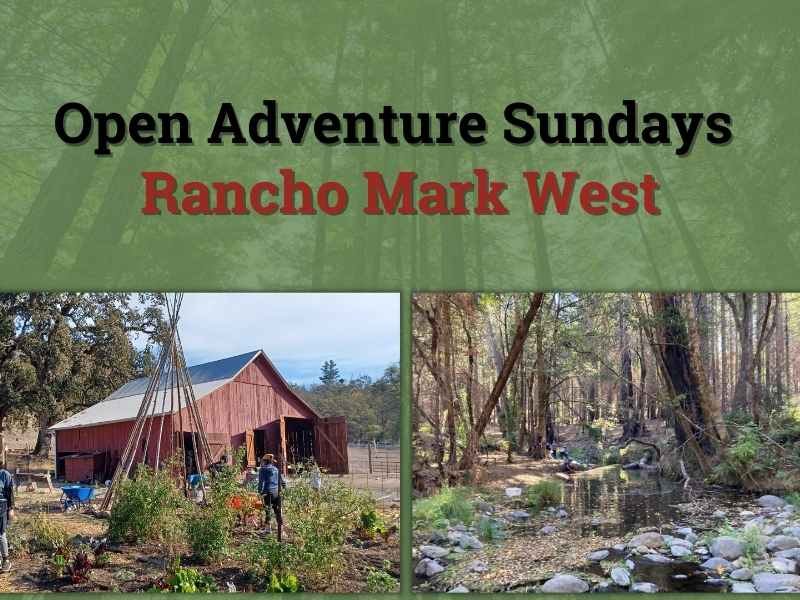 Lea hacia abajo para lear la información en español
Join LandPaths and our friends at Sonoma County Ag + Open Space for a free, self-guided, family friendly adventure at Rancho Mark West. The first Sunday pf the month, Rancho Mark West will be open to the public. Explore the trails that meander through a redwood forest, trek across open hillsides with views of oaks, madrones, and doug firs, and follow along pristine Mark West Creek as it flows towards the Laguna de Santa Rosa. This is a self guided tour throughut the preserve, but registration is required.
Rancho Mark West is located on the ancestral home of the Southern Pomo people and the Wappo people, past, present, and future. We recognize them as the first people and the first stewards of this land. We are on occupied territory and acknowledge the ongoing devastation of colonization. With accessible pathways and proximity to Santa Rosa, Rancho Mark West is our outdoor classroom, community hub, and wild place of refuge in the Mayacamas Mountains.
WHERE: Rancho Mark West - 7125 St. Helena Road, Santa Rosa Ca, 95404
From Santa Rosa: take Highway 12 towards Sonoma and go left at Calistoga Road. Take Calistoga Road 3.3 miles up and over a short grade (approx. 5 minutes from intersection with Highway 12). Turn right at St. Helena Road. 7125 St. Helena Road is approximately 2.6 miles from the intersection with Calistoga Road. You will know you are almost there when you emerge into a clearing of Christmas Trees on the right. From Sonoma take a right on Calistoga Road and follow the above instructions. Turn into the driveway and look for LandPaths staff to direct you to parking. Allow 25 minutes drive time from downtown Santa Rosa.
Details:
There is no charge for this outing. It is made possible by the voters of Sonoma County who funded Sonoma County Ag+Open Space's work with a quarter-cent sales tax, in partnership with LandPaths.

Dress in layers and bring appropriate footwear for walking on uneven trails

You will be asked to sign a liability waiver when you arrive.

No pets or smoking

There are outhouse/portolet restrooms on site.
Fo more information please contact Omar Gallardo at 707-544-7284 X 103 or by email at omar@landpaths.org.
En español
Dónde: Desde Santa Rosa: Tome la autopista 12 hacia Sonoma y gire a la izquierda en Calistoga Road. Tome Calistoga Road 3.3 millas hacia el norte (aproximadamente 5 minutos desde la intersección con la autopista 12). Gire a la derecha en St. Helena Road. 7125 St. Helena Road está aproximadamente a 2.6 millas de la intersección con Calistoga Road. Sabrá que casi ha llegado cuando salga a un claro de árboles de Navidad a la derecha. Desde Sonoma, gire a la derecha en Calistoga Road y siga las instrucciones anteriores. Gire hacia el camino de entrada y busque al personal de LandPaths para que lo dirija al estacionamiento. Calcule 25 minutos de tiempo de manejo desde el centro de Santa Rosa.
Detalles:
Este evento es gratuito gracias a los votantes del condado que crearon Sonoma Ag+Open Space y será coordinado por sus amigos en LandPaths.

Vista en capas debido a lo inesperado del clima, traiga zapatos para caminar y bocadillos (sea responsables de su propia basura por favor)

Le pediremos que firme un formulario de libertad de responsabilidad antes de la caminata

No se permiten mascotas o fumar

Habrá dos baños portátiles disponibles
Únase a LandPaths y a nuestros amigos en Sonoma County Ag + Open Space para una aventura gratuita, autoguiada y para toda la familia en Rancho Mark West. El primer domingo del mes, Rancho Mark West estará abierto al público. Explore los senderos que serpentean a través de un bosque de secuoyas, camine por laderas abiertas con vistas de robles, madroños y abetos, y siga el prístino Mark West Creek mientras fluye hacia la Laguna de Santa Rosa.
Rancho Mark West está ubicado en el hogar ancestral del pueblo Pomo del Sur y el pueblo Wappo, pasado, presente y futuro. Los reconocemos como las primeras personas y los primeros administradores de esta tierra. Estamos en territorio ocupado y reconocemos la devastación en curso de la colonización. Con caminos accesibles y proximidad a Santa Rosa, Rancho Mark West es nuestro salón de clases al aire libre, centro comunitario y lugar salvaje de refugio en las Montañas Mayacamas.
Para más información, favor de comunicarse con Omar Gallardo al 707-544-7284 x 103 o por correo electrónico a omar@landpaths.org