Description
Summer Camps volunteer at LandPaths
Voluntariado campamentos de verano de LandPaths
español abajo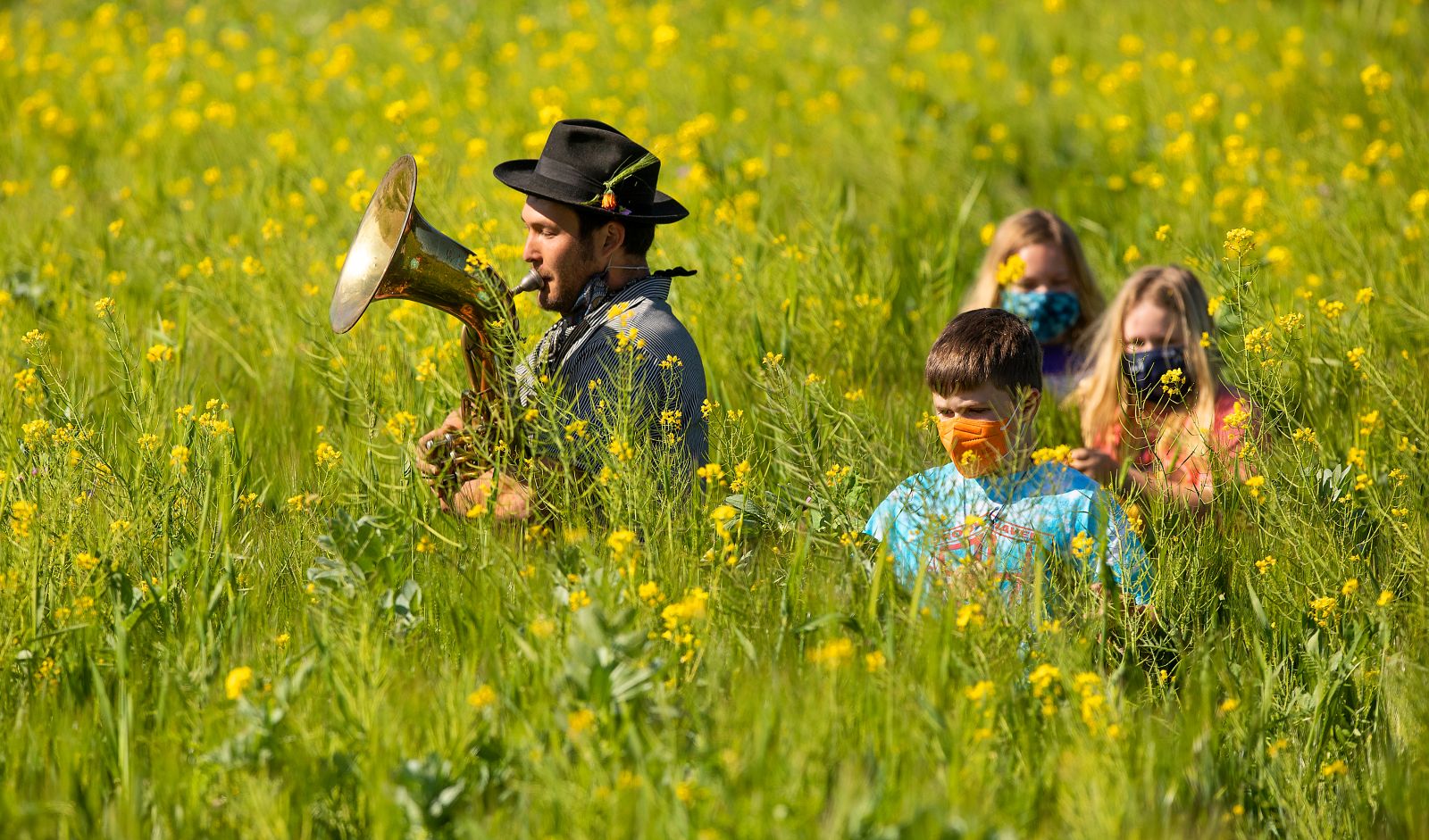 Position Description:
LandPaths seeks volunteers to assist camp staff at our summer camps, nature-based day camps for the county's youth at Rancho Mark West in Northeast Santa Rosa, Bohemia Ecological Preserve in Occidental, Duckworth Farm in Sebastapol and Preston Farm in Healdsburg.
Some of the tasks include:
Drive carpool (LandPaths vehicle or your own) from Bayer Farm (Roseland) to camp

Assist camp staff with group activities (games, crafts, nature exploration)

Play and instrument/sing camps song with the campers!

Lead a special nature-based learning activity

Bilingual (Spanish) skills are a plus
How will you benefit?
Learn how to work in a group setting from skilled and experienced environmental educators

Spend time outdoors in a beautiful place, gaining all of the mental and physical benefits of time in nature

Harvest and enjoy food organically grown on site! (If you volunteer at Preston Farm and Rancho Mark West)

Learn outdoor education, teaching, and leadership skills for working with youth (e.g. group management, small and large group nature-based games, inquiry-based exploration of the natural world, all the skills needed to safely lead youth hikes, basic water safety and canoeing skills).

Get a Summer Camps T-shirt!
What to expect after you register:
Mark your calendar for a required training on Friday, June 9 from 10am-4:30pm at Bohemia Ecological Preserve in Occidental.

A commitment to work at least one full week, or five days total at summer camp. The hours are from 8:15am - 4pm.

Work Schedule: You will arrive by 8:15am to set up crafts and activities and stay through the end of the day to help with clean-up, debrief and share stories from the day.
If you have any questions, please email Laura, Volunteer Coordinator: laura@landpaths.org.
Ayudante de campamentos de verano de LandPaths
LandPaths busca voluntarios para ayudar al personal de los campamentos de verano, campamentos basados en la naturaleza para niños en Rancho Mark West en el noreste de Santa Rosa, Bohemia Ecological Preserve en Occidental, Duckworth Farm en Sebastapol y Preston Farm en Healdsburg.
Los campamentos de verano ofrecen un lugar enriquecedor para que los niños exploren el mundo natural, prueben nuevas ideas y experimenten la libertad de ser niños; aprendizaje a través de la exploración de la naturaleza. Los campistas regresan año tras año para conectarse con la tierra, apreciar y cuidar la naturaleza, hacer nuevos amigos, cantar canciones, caminar, jugar juegos de campamento, construir fuertes, aprender habilidades de carpintería, nadar, andar en canoa, hacer manualidades, actuar en obras de teatro. , ¡y aprender a cocinar comida orgánica directamente de la huerta! El resultado son niños felices, conscientes y curiosos que sienten que pertenecen a la naturaleza y están ansiosos por volver a salir para cuidar la tierra y divertirse con la comunidad.
Beneficios que recibirás como voluntario:
Aprender de expertos y experiencados educadores ambientales

Pasar una semana (o más) al aire libre en un bello paraje, respirando aire fresco y haciendo ejercicio

Cosechar y preparar alimentos de las huertas orgánicas de Rancho Mark West y Preston Farm

Aprender habilidades de liderazgo, enseñanza y educación al aire libre para trabajar con los jóvenes (por ejemplo, manejo de grupos, grupos pequeños y juegos basado en la naturaleza, exploración indagación del mundo natural, todos los conocimientos necesarios para conducir caminatas seguras, seguridad básica en el agua y competencias de canotaje).

Playera de campamentos de verano 2023!
Expectativas de los voluntarios:
Asistir a un día de entrenamiento, viernes junio 9 de 10:00-4:30pm

en Bohemia Ecological Preserve en Occidental

Comprometerse a por lo menos 1 semana completa o un total de 5 días de campamento (durante una semana) de 8:15am a 4:00pm

Ayudar al personal del campamento en todas las actividades incluyendo manualidades, cocina, jardinería, senderismo y más

Arrivar a las

8:15 am para ayudar a preparar artesanías y actividades y quedarse hasta el final del día para ayudar a limpiar, y compartir historias del día.
Si tienen alguna pregunta, envíen un correo electrónico a Laura, coordinadora de voluntarios: laura@landpaths.org.
¡Gracias!