Description
Yellow Star Thistle Star Party and Potluck
Friday, August 25th, 2023
This event will be led in English
(Volunteers may leave early, but must arrive on time)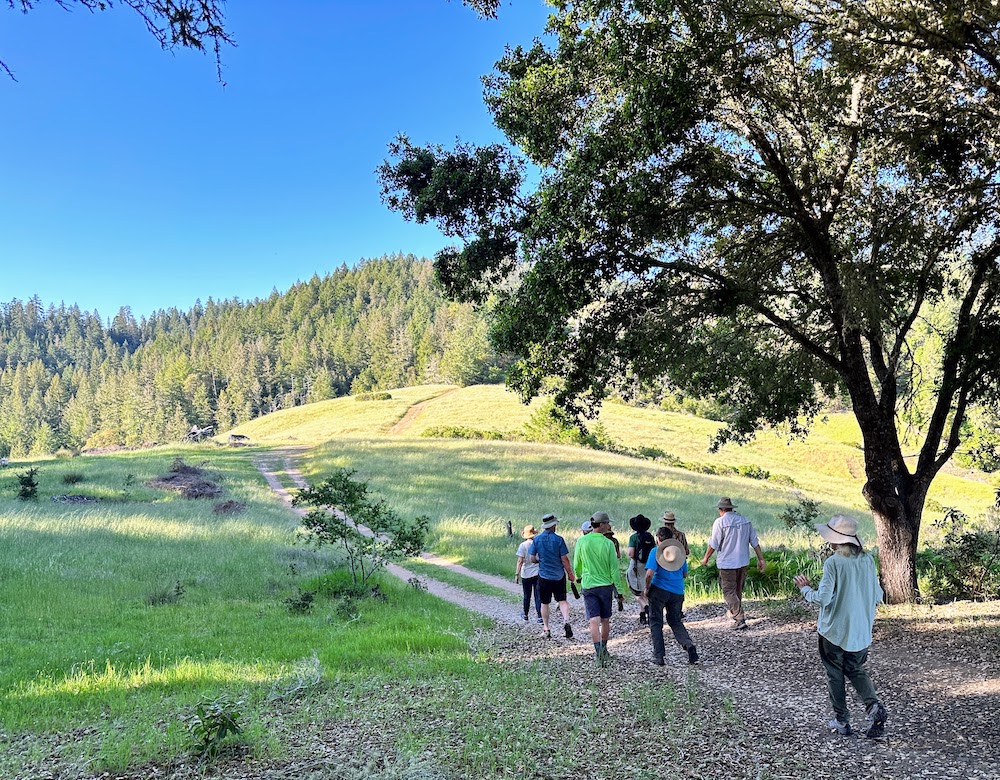 You are warmly invited to lend a hand at Bohemia Ecological Preserve for the health of the forest, soil, and grasslands!
Argh, Yellow star-thistle! (shakes fist). Did you know that one plant from this wily invasive species can disperse more than 35,000 seeds per year? And that Yellow star-thistle tends to dramatically outcompete the precious and threatened native grasslands that are crucial to planetary health? For all these reasons, removing star-thistle at this preserve is a major priority! Join us for a special evening event, where we take advantage of the longer day - we'll pull yst in the early evening and then hang out to watch the stars!
Here's a sampling of possible tasks that you will do to care for the land:
Pulling yellow star-thistle plants by hand (wearing gloves that we'll provide) and placing them in bag.
Carrying bags of yellow star-thistle to disposal site.

Gathering for a community stewardship potluck (so please bring your favorite dish to share!)

Watching sunset and the starry night sky.
About Bohemia Ecological Preserve:
This 1,000 acre protected, open space, people-powered preserve in West Sonoma County teems with old-growth forest, oak woodlands, native grasslands, and a legendary waterfall. Several endangered and at-risk species live here, including northern spotted owls, red tree voles, and Pennell's bird's beak.
How to get there: The entrance to Bohemia Ecological Preserve is off Bohemian Highway, approximately 3 miles north of Occidental. From the intersection of Graton Road and Bohemian Highway, drive north on Bohemian Highway for approximately 3 miles. Look for the LandPaths' sign marking the entrance. The address is 6773 Bohemian Highway, Occidental, CA 95465
What is LandPaths' Covid-19 volunteer workday policy? Please read the most recent version of LandPaths' Covid-19 policy before attending the workday.
Does rain mean the workday is canceled? The stewardship workday will move forward if there is a light drizzle, but a torrential rainstorm will cancel. Please call 707-544-7284 (then press 1) after 7am the morning of the stewardship day if the weather feels questionable. If you don't hear a notice of cancellation on the outgoing voice message, the stewardship day is moving forward.
What should you bring?
Your favorite potluck dish to share!

Your own plate and utensils

A water bottle filled with water

A backpack for your gear

Sturdy boots or shoes that can get muddy

Long pants are recommended

Work gloves

Hat and sunscreen
What else do you need to know?
No experience necessary! Everyone is welcome! We will create tasks according to your abilities

You will be asked to sign a liability waiver

There are restrooms and potable water

No pets or smoking

The event will end when it is dark out, so please keep in mind that the road back into town is windy.